Touchless Express Check-In
Already using KidCheck?
Find out more about Express
Contact Us
No need to use a check-in station or stand in line.  Parents check kids in using their own mobile device!

After downloading the KidCheck App, parents start check-in on their mobile device from home, the car, the parking lot – wherever there's an internet or cellular data connection.
Check-in is completed upon arrival. Parents simply tap 'submit' on their mobile device. The licensed KidCheck ExpressHub recognizes the check-in and prints the child name badges and guardian receipts to the associated label printer.

That's it! No need to stand in line, use a check-in station, or scan a code. Fast, convenient, touchless and secure. 
The KidCheck ExpressHub and Express Check-In
The Express Check-In feature is available in all KidCheck editions and gives parents the ability to start check-in remotely from their personal mobile device. A licensed KidCheck ExpressHub is the equipment needed to complete the check-in when the family arrives at your facility and enable automated label printing to the associated label printer.
The ability for parents to start check-in on their mobile device with Express Check-In is still available without a licensed KidCheck ExpressHub, however then labels will not be prompted to print upon arrival. In this case, families will still need to use a physical check-in station to complete the check-in and print labels.
How it Works
KidCheck took care of all that complicated stuff behind the scenes, making it easy, fast, and seamless for both organizations and the families checking in: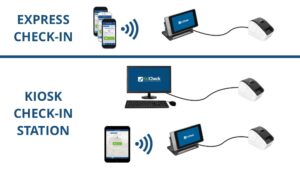 Learn More
Express Check-In Frequently Asked Questions
Touchless Check-In  and Out Options Tutorial
What Our Customers Think
Customer Experience Stories – Read more about how Express Check-In has benefited others.
"Love Express Check-In and the PrintHub! It's 4-5 times faster!"
"Express Check-In has been a game changer for our busy parents needing to drop off their kiddos quickly."
"Express is fantastic! Start at home, hit submit when you arrive, and stickers are printing by the time you get in the door."
"Express Check-In is a state-of-the-art, reliable check-in solution, adding flexibility and efficiency, providing a faster solution, and increasing parent satisfaction."
"Parents love Express Check-In. They don't have to wait in line, their children are checked in in the car, and they're good to go."
"Parents using Express Check-In love that they can walk in, look at the line, and just go right by to pick up their receipts."
"Express Check-In helped speed up the check-in process and almost elminates congestion in the kids' foyer."
"KidCheck has helped us provide a better, easier, quicker way to check-in kids. Express Check-In has cut our check-in time in half and our parents love it."
"Express Check-In is amazing!"