Billing (Check-In Passes and Add-ons)
KidCheck offers fast, easy, flexible childcare payment options from prepaid childcare to opportunities to offer additional products, services and discounts. Generate revenue and create a positive experience.
Prepaid Childcare
Make it super easy for member families to purchase childcare ahead of time. With Check-In Passes they purchase the amount of childcare they need, based on your available options, ahead of time. That makes payment collection easier for you and childcare check-in faster, easier and more convenient for them.
Pass options include by number of check-ins, hourly, day, week, monthly, annual.  They can be one-time purchases or auto renew.  You can create as many or as few pass types as you need.
Check-In Passes have tons of flexibility and options. You control and decide what type of pass(es) you want to offer, any limits or restrictions, pricing and renewal options.  If necessary, refunds are a snap as well.
How It Works
Organizations simply create a pass by choosing the appropriate type (number of check-ins, hourly, day, week, monthly, annual), add any limits such as number of hours or check-ins associated per day/week/month, and include any other restrictions like it's valid only certain places or classes. Then set the price and determine if the Check-In Pass is auto-renew or one time only.  It's quick and easy to set up a merchant account right in the system to get started.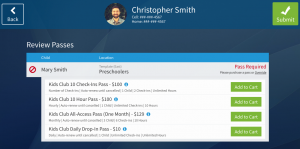 It's just as easy for parents, giving them a fast, convenient way to pay for childcare.  Parents simply purchase the passes you've made available from within their personal KidCheck account and pay via credit card. They can also purchase at your facility at a check-in station.
Add-Ons and Discounts
When families are already in the KidCheck system checking kids in or out, it's the perfect opportunity to offer additional items, give discounts, or charge for their time with you. It's simple for organizations, convenient for members, and a great time to processes charges or generate additional revenue.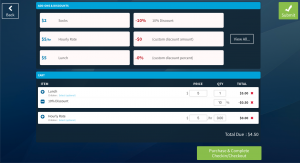 Looking to sell socks or a mask? Perhaps a boxed lunch or additional childcare/play hours? Maybe offer a discount overall or on a certain item?  With KidCheck, it's easy to set up and include the product add-ons or discounts you want to have displayed right at check-in or check-out for member families to easily select, purchase and pay.
How it Works
In KidCheck, simply add any products you'd like to offer, set the price, and assign to a child if appropriate. Discounts can be set by hour, percentage, or flat rate. There's lots of flexibility built in to allow you to determine what you want members to see at child check-in.
Then, during check-in or check-out families can easily see, choose and purchase from your options before finalizing. The purchase is completed either through an associated card reader or by manually entering credit card information. A receipt will be automatically sent to the email address associated with the KidCheck account.
Kids have the items they need, parents appreciate the simplicity, and you've created a positive experience and additional sales.
Transactions
A separate transactions tab on your dashboard provides one place to see all purchase history overall and by member. This includes Check-In Passes and Add-Ons. This information can be filtered and exported for easy reporting. You can also resend a receipt or process a refund if needed.
Tutorial: Check-In Passes 
Tutorial: Add-Ons and Discounts